PRODUCTS
Oxytetracycline injection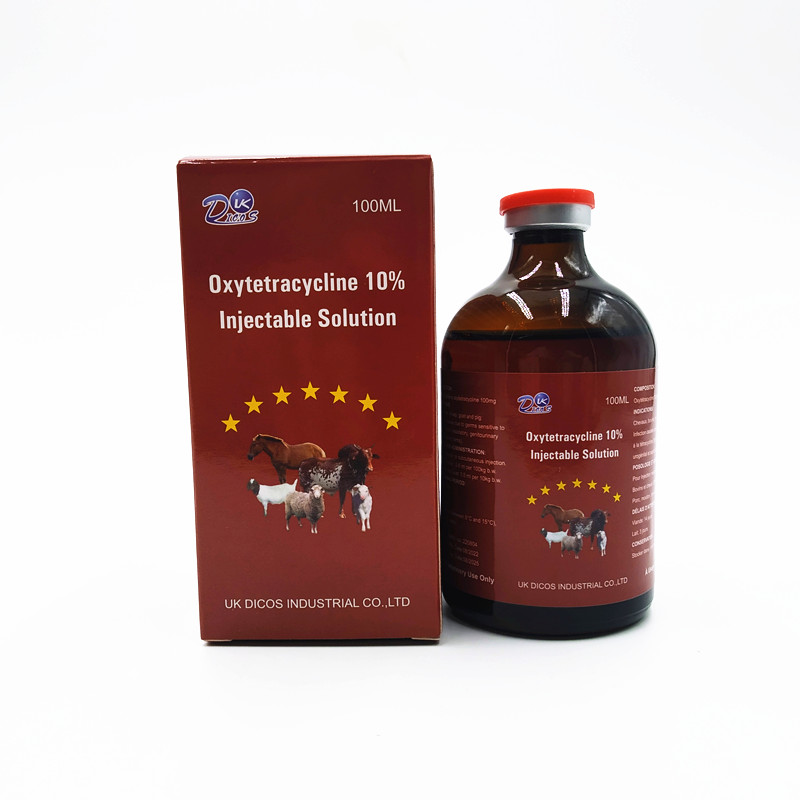 INTRODUTION:
Oxytetracycline injection
Pharmacodynamic tetracycline is a broad-spectrum antibiotic of tetracycline, which has strong effects on Gram-positive bacteria such as Staphylococcus, hemolytic streptococcus, Bacillus anthracis, Clostridium tetanus and Clostridium, but not as good as β-lactam. It is more sensitive to Gram-negative bacteria such as Escherichia coli, Salmonella, Brucella and Pasteurella, but not as sensitive as aminoglycosides and amidol antibiotics. It also inhibits Kettsiella, Mycoplasma, chlamydia, spirochetes, actinomycetes and some protozoa.
The apparent distribution volume of pharmacokinetic oxytetracycline was 2.1L/Kg in small animals, 1.4L/Kg in horses, and 0.8L/Kg in cattle. Oxytetracycline is mainly excreted by glomerular filtration in its original form. When renal function is impaired, the excretion slows down and the half-life is prolonged. The half-life of oxytetracycline was 10.5 hours for horses, 4.3 to 9.7 hours for cattle and 6.7 hours for pigs
FAQ:
Q1: Are you a factory or trading company?
A:We are a factory.
Q2: How much does shipping cost?
A:It depends on the quantity of goods, The shipping method, and the country,use the website, Online inquiry to our sales.
Q3: Can we get your free samples?
A:Yes, you can. Our free sample can be provided for our customers to test quality. But the freight for express is on buyer's account.