PRODUCTS
Oxytetracycline multivitamin powder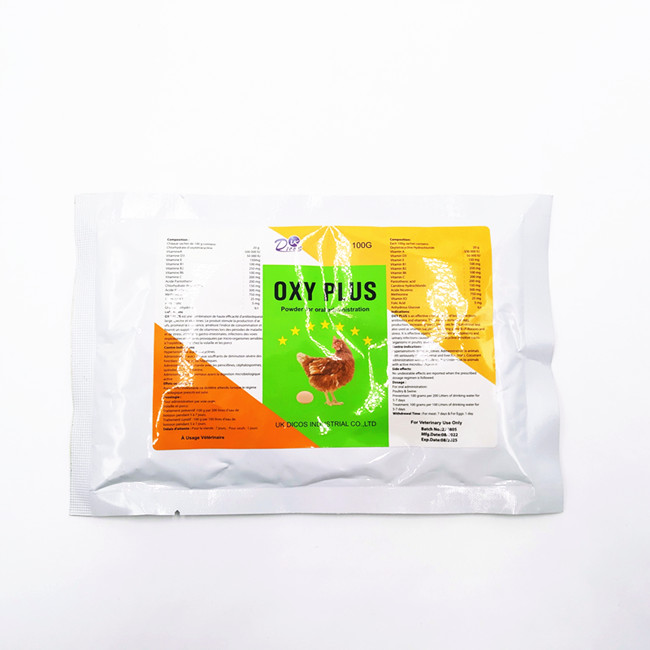 INTRODUTION:
Oxytetracycline multivitamin powder
Pharmacodynamic tetracycline is a broad-spectrum antibiotic of tetracycline, which has strong effects on Gram-positive bacteria such as Staphylococcus, hemolytic streptococcus, Bacillus anthracis, Clostridium tetanus and Clostridium, but not as good as β-lactam. It is more sensitive to Gram-negative bacteria such as Escherichia coli, Salmonella, Brucella and Pasteurella, but not as sensitive as aminoglycosides and amidol antibiotics. It also inhibits Kettsiella, Mycoplasma, chlamydia, spirochetes, actinomycetes and some protozoa.
1, quickly supplement the body's vitamin deficiency; Prevention and treatment of vitamin deficiency caused by growth retardation, stunted growth, performance decline, etc.;
2, enhance gastrointestinal peristalsis, promote digestion, increase appetite. It can be used for the treatment of gastritis and enteritis.
3. Eliminate toxins, repair intestinal mucosa, and maintain a healthy intestinal environment. Effective prevention and treatment of diarrhea, slow growth, enterotoxicity;
4, promote intestinal development, improve intestinal digestion and absorption capacity, so as to make animals gain weight fast, look good, bright and shiny;
5, promote growth and development, such as improve the survival rate of livestock and poultry, uniformity and health rate, improve fertilization rate, calving rate.
6, used for auxiliary treatment of livestock and poultry disease, shorten the course of disease, accelerate disease rehabilitation, reduce mortality and large group incidence.
FAQ:
Q1: Are you a factory or trading company?
A:We are a factory.
Q2: How much does shipping cost?
A:It depends on the quantity of goods, The shipping method, and the country,use the website, Online inquiry to our sales.
Q3: Can we get your free samples?
A:Yes, you can. Our free sample can be provided for our customers to test quality. But the freight for express is on buyer's account.