PRODUCTS
ANTI-GOMBOROW Oral solution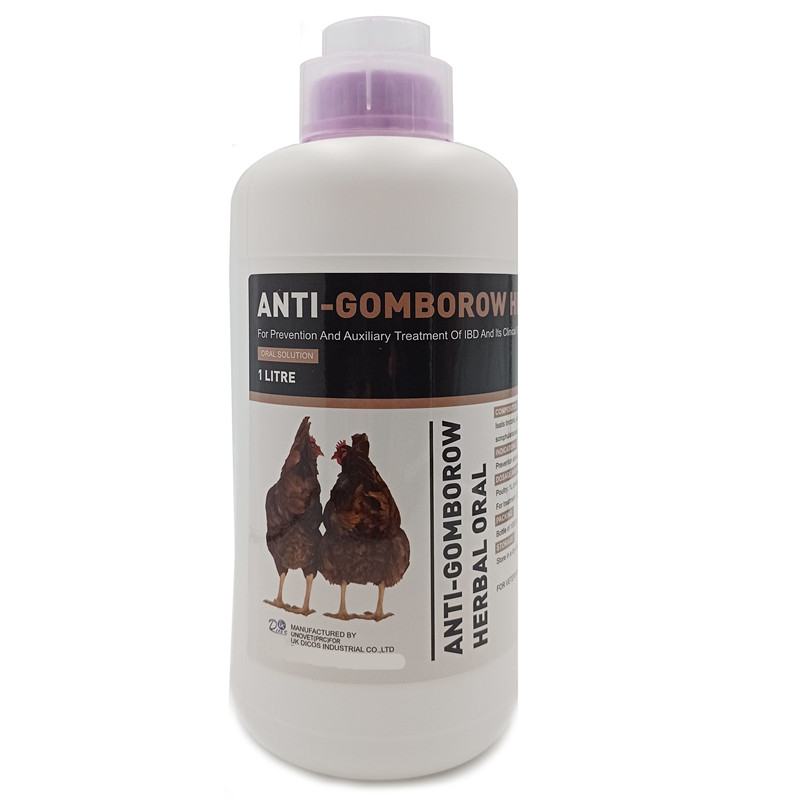 INTRODUTION:
ANTI-GOMBOROW Oral solution
1, heat and detoxification, xin liang to relieve the table, anti-inflammatory analgesia. Applicable to horses, cattle, sheep, pigs, poultry and other bacterial, viral cold, high fever and other causes of cold, fever, cough, sneeze, runny nose, sore throat and other respiratory syndrome. The manifestations are: fever, body temperature (40-41.5℃), lack of energy, loss of appetite or lack of food, often crowded together, unwilling to exercise, cold fear; Dyspnea, cough is serious lying on the ground and continuous cough and asthma; Mucus discharge from eyes and nose.
2. Fatty liver, hepatopancreatic enlargement, hemorrhagic disease, rotten gill disease, red skin disease, etc.
3, shrimp and crab physiological dysfunction, swimming pool, anorexia, empty stomach, white spot, hepatopancreas turbidity, enlargement, erosion, atrophy and bacterial infection caused by yellow gills, rotten gills, black gills, broken beard (claws), rotten eyes, red eyes, trembling and other symptoms.
4, the prevention and control of aquaculture animal harm, common hemorrhagic disease.
5, aquaculture animal viral diseases, and concurrent infection with bacteria.
6, livestock and poultry a variety of viral diseases and bacterial infection.
With antiviral, anti-stress, anti-oxidation and other effects, promote the development of immune organs, enhance the comprehensive defense level and disease resistance of livestock and poultry.
FAQ:
Q1: Are you a factory or trading company?
A:We are a factory.
Q2: How much does shipping cost?
A:It depends on the quantity of goods, The shipping method, and the country,use the website, Online inquiry to our sales.
Q3: Can we get your free samples?
A:Yes, you can. Our free sample can be provided for our customers to test quality. But the freight for express is on buyer's account.