PRODUCTS
AZETROMAX Injection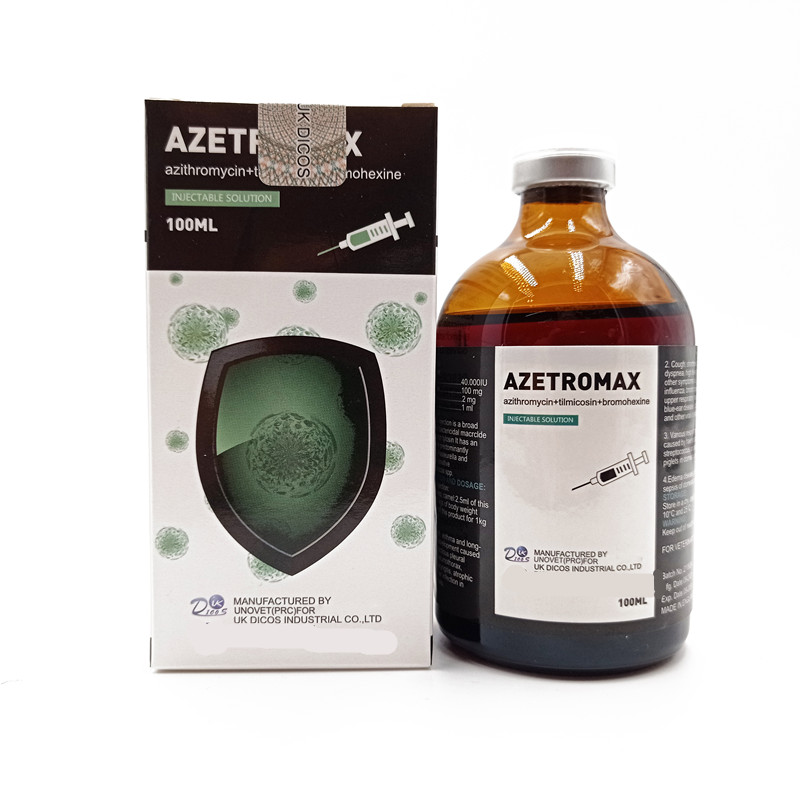 INTRODUTION:
AZETROMAX Injection
Azithromycin is a semi-synthetic 15-membered macrolide antibiotic. White or quasi-white crystalline powder; Odorless, bitter taste; Slightly wet. This product is soluble in methanol, acetone, chloroform, anhydrous ethanol or dilute hydrochloric acid, almost insoluble in water. The specific curl of this product was taken, weighed accurately, dissolved and diluted in anhydrous ethanol to make a solution containing 20mg per 1mL, and determined according to law (Appendix ⅵ E). The specific curl should be -45° to -49°.
To mycoplasma and escherichia coli mixed infection caused by balloon inflammation, perihepatic inflammation, pericardium
Inflammation, peritonitis, salpingitis, enteritis, rhinitis, ophthalmitis, performance is high fever
Chills, head retraction, eye closure, dyspnea, snoring, nose rejection, tears, facial edema, diarrhea,
Rami soup, yellow, white, green gray feces and other symptoms.
FAQ:
Q1: Are you a factory or trading company?
A:We are a factory.
Q2: How much does shipping cost?
A:It depends on the quantity of goods, The shipping method, and the country,use the website, Online inquiry to our sales.
Q3: Can we get your free samples?
A:Yes, you can. Our free sample can be provided for our customers to test quality. But the freight for express is on buyer's account.