PRODUCTS
NEO-C-T Water soluble powder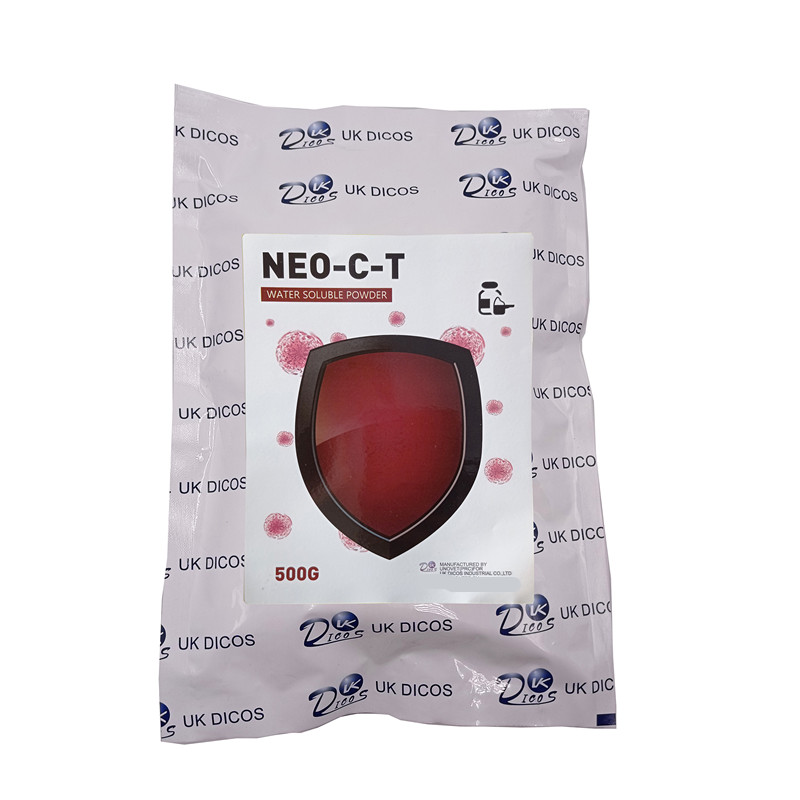 INTRODUTION:
NEO-C-T Water soluble powder
Neomycin is an antibiotic, and streptomycin, kanamycin, gentamicin belong to aminoglycoside antibiotics. It is produced by Streptomyces fredii and is effective against both Gram-positive and gram-negative bacteria. The product is mainly a mixture of neomycin B and C. Neomycin was completely cross-resistant to kanamycin and partially cross-resistant to streptomycin. Similar to antibiotics in the same class
Myxobaciltin sulfate, also known as Colistin sulfate, Colistin, Polymyxin E, antiditin, etc., white or nearly white powder, odorless, bitter taste with moisture, easily soluble in water, slightly soluble in methanol, ethanol, almost insoluble in acetone, ether, etc., free alkali slightly soluble in water. Stable in the ph3-7.5 range. Myxobacillus sulfate is produced by myxobacillus polymyxobacteriaceae and has strong antibacterial action against gram-negative bacteria. It is used in the treatment of intestinal diseases caused by gram-negative bacteria. It is used as a feed additive and has a significant growth promoting effect. It is better to use it with sulfadiazine.
FAQ:
Q1: Are you a factory or trading company?
A:We are a factory.
Q2: How much does shipping cost?
A:It depends on the quantity of goods, The shipping method, and the country,use the website, Online inquiry to our sales.
Q3: Can we get your free samples?
A:Yes, you can. Our free sample can be provided for our customers to test quality. But the freight for express is on buyer's account.