PRODUCTS
Tylosin Streptomycin sulfate Soluble powder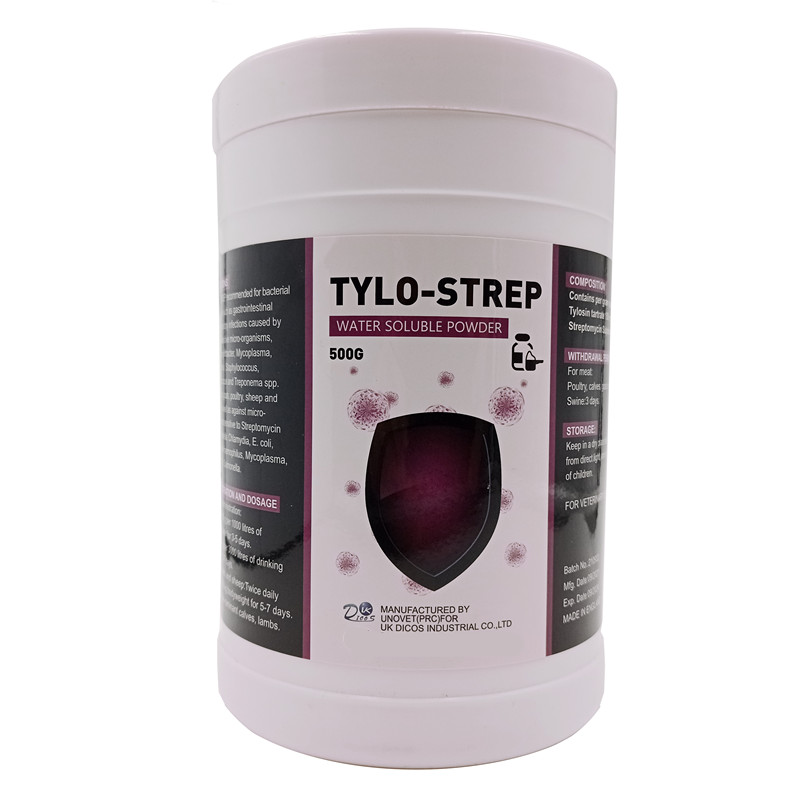 INTRODUTION:
Tylosin Streptomycin sulfate Soluble powder
The special effect on mycoplasma is a remarkable characteristic of tallosin, which has become the first choice for prevention and treatment of mycoplasma diseases in livestock and poultry. Mainly used for the prevention and treatment of swine mycoplasmal pneumonia (also known as swine influenza pneumonia, habit pig asthma), chicken poison mycoplasma infection, chronic respiratory disease (also called chicken), sheep contagious pleuropneumonia (also known as sheep mycoplasma pneumonia), mycoplasma mastitis and arthritis, sheep mycoplasma sex without breast disease and arthritis, pig mycoplasma serositis, arthritis, Avian mycoplasma synovitis, etc.
Streptomycin sulfate is a kind of aminoglycoside antibiotic drug. Streptomycin sulphate of n/med tuberculosis bacili have strong antibacterial effect, for most gram-positive cocci (such as all kinds of streptococcus pneumoniae) and bacillus (e.g., pseudomonas aeruginosa, anaerobic bacteria) antibacterial effect is not strong, for many gram-negative bacilli has strong antimicrobial effect, tuberculosis is effective to all kinds of skin, inhibiting the bacteria and toxins produced by the effect, High concentration (>0.4 μg/mL) has bactericidal effect. Mycobacterium tuberculosis is resistant to streptomycin rapidly, so it should be used in combination with other anti-tuberculosis drugs.
FAQ:
Q1: Are you a factory or trading company?
A:We are a factory.
Q2: How much does shipping cost?
A:It depends on the quantity of goods, The shipping method, and the country,use the website, Online inquiry to our sales.
Q3: Can we get your free samples?
A:Yes, you can. Our free sample can be provided for our customers to test quality. But the freight for express is on buyer's account.