PRODUCTS
5% oxytetracycline injection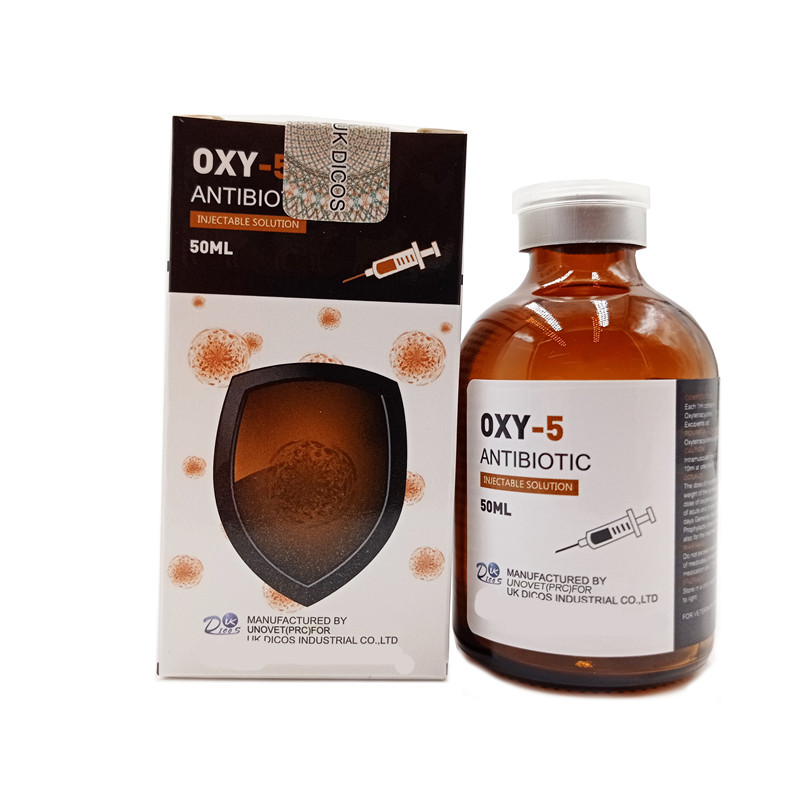 INTRODUTION:
5% oxytetracycline injection
Tetracycline antibiotics. This product is a broad spectrum bacteriostatic agent, many rickettsia, mycoplasma, chlamydia, spiral
Body, amoeba and some plasmodium parasites are also sensitive to it. Enterococcus is resistant to it. Others such as actinomycetes, anthrax, listeria monocytogenes, clostridium, Nocardia, vibrio, Brucella, Campylobacter, Yersinia are sensitive to the product.
The product has certain antibacterial activity to neisseria gonorrhoeae and meningococcus, but penicillin-resistant Neisseria gonorrhoeae is also resistant to oxytetracycline. Due to the extensive application of tetracycline over the years, oxytetracycline resistance of common clinical pathogens is serious, including gram-positive bacteria such as Staphylococcus and most gram-negative bacteria. There is cross-resistance among different varieties of tetracycline antibiotics.
The mechanism of action is that the drug can specifically bind to the A position of 30S subunit of bacterial ribosome, inhibit the growth of peptide chain and affect the synthesis of bacterial protein.
FAQ:
Q1: Are you a factory or trading company?
A:We are a factory.
Q2: How much does shipping cost?
A:It depends on the quantity of goods, The shipping method, and the country,use the website, Online inquiry to our sales.
Q3: Can we get your free samples?
A:Yes, you can. Our free sample can be provided for our customers to test quality. But the freight for express is on buyer's account.