PRODUCTS
10% Sulfadiazine Sodium +25 Trimethoprim injection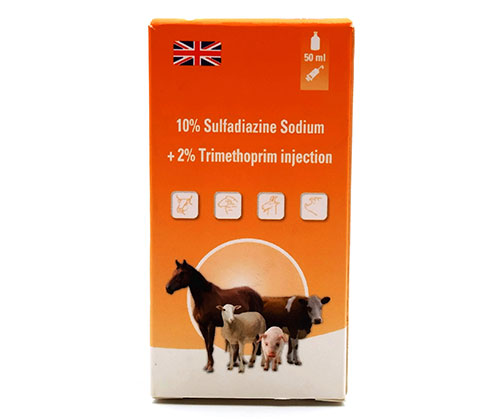 INTRODUTION:
This product is easy to absorb, excretion is slow, blood drug concentration quickly to an effective level. Due to its low binding rate with plasma protein (24% in cattle, 17% in dogs and 16% in poultry), it is easy to pass through the blood-brain barrier, so it can enter the cerebrospinal fluid to achieve a high concentration of drugs. The half-life in vivo is 9.84h in dogs, 2.7h in horses and 2.5h in cattle. It has strong effect on hemolytic streptococcus, dicoccus pneumoniae, Salmonella, coliform rod and so on, but has a slight effect on staphylococcus.
This product inhibits bacterial reproduction by inhibiting the synthesis of folic acid. It is a broad-spectrum bacteriostatic agent and one of the stronger varieties of sulfonamide drugs. Sulfadiazine sodium combined with trimethoprim can double inhibit bacterial folic acid metabolism

FAQ:
Q1: Are you a factory or trading company?
A:We are a factory.
Q2: How much does shipping cost?
A:It depends on the quantity of goods, The shipping method, and the country,use the website, Online inquiry to our sales.
Q3: Can we get your free samples?
A:Yes, you can. Our free sample can be provided for our customers to test quality. But the freight for express is on buyer's account.