PRODUCTS
Butafosfan 10% + Vitamin B12 injection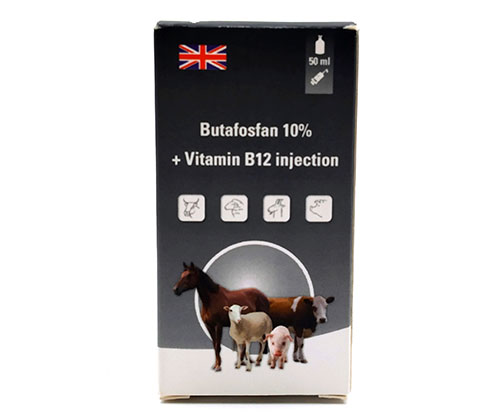 INTRODUTION:
Compound butaphosphorus injection is the only endogenous anti-stress drug at present, which has the effects of improving animal stress response, promoting metabolism and enhancing immunity, and has many advantages such as safety, efficiency, no residue, and no drug resistance. It has the least damage to the individual body and the fastest effect. The drug delivery route is more suitable for stress treatment and prevention of pigs, cattle, sheep and poultry under the mode of intensive breeding, as well as energy nutrition preparations for special animals such as dogs and pigeons.
Quickly replenish energy, restore physical strength, enhance the smooth muscle function of each organ, improve skeletal system, and help the muscle motor system of animals recover from fatigue.

Clinical application:

(1) Make sows deliver faster and more smoothly, shorten the labor course, reduce stillbirth, help sows recover from production fatigue, improve feed intake and milk production, and avoid the occurrence of reproductive barriers.

(2) Improve the sex drive and semen quality of boars.
(3) Treat pigs with weak physique, loss of energy and low body temperature.
FAQ:
Q1: Are you a factory or trading company?
A:We are a factory.
Q2: How much does shipping cost?
A:It depends on the quantity of goods, The shipping method, and the country,use the website, Online inquiry to our sales.
Q3: Can we get your free samples?
A:Yes, you can. Our free sample can be provided for our customers to test quality. But the freight for express is on buyer's account.